Posts for: March, 2018
By Edwin Yee
March 30, 2018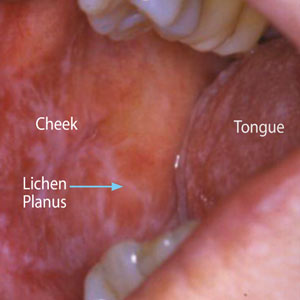 If you notice a small sore or a change in the appearance of the tissues inside your mouth, don't panic. It's likely a common, minor ailment that appears on a lot of skin surfaces (like the wrists or legs) besides the cheeks, gums, or tongue.
These small sores or lesions are called lichen planus, named so because their coloration and patterns (white, lacy lines) look a lot like lichen that grow on trees or rocks. They're only similar in appearance to the algae or fungi growing in the forest — these are lesions thought to be a form of auto-immune disease. Although they can affect anyone, they're more common in women than men and with middle-aged or older people.
Most people aren't even aware they have the condition, although some can produce itching or mild discomfort. They're often discovered during dental checkups, and although they're usually benign, we'll often consider a biopsy of them to make sure the lesion isn't a symptom of something more serious.
There currently isn't a cure for the condition, but it can be managed to reduce symptoms; for most people, the lesions will go away on their own. You may need to avoid spicy or acidic foods like citrus, tomatoes, hot peppers or caffeinated drinks that tend to worsen the symptoms. If chronic stress is a problem, finding ways to reduce it can also help alleviate symptoms as well as quitting tobacco and reducing your alcohol intake.
Our biggest concern is to first assure the lesion isn't cancerous. Even after confirming it's not, we still want to keep a close eye on the lesion, so regular monitoring is a good precaution. Just keep up with the basics — good oral hygiene and regular checkups — to ensure you have the most optimum oral health possible.
If you would like more information on lichen planus lesions, please contact us or schedule an appointment for a consultation. You can also learn more about this topic by reading the Dear Doctor magazine article "Lichen Planus: Mouth Lesions that are Usually Benign."
By Edwin Yee
March 15, 2018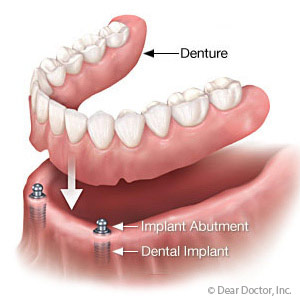 Your dentures have served you well over the years. Lately, though, you've noticed the fit loosening in the lower denture. It's not a new problem: you've had them refitted a few times already. But now it seems to be growing worse and you're having more trouble chewing food or speaking clearly.
The problem isn't all wear and tear with your dentures — the bone in your jaw is shrinking. A denture applies forces that are compressive. Natural teeth produce forces when we chew that travel through the tooth root and stimulate the bone to grow. Without teeth, there's no such force to stimulate the bone. As a result, new bone cells don't replace older cells at a healthy rate and bone volume diminishes over time. Because traditional dentures are supported by the gum ridges, the constant compressive forces on the gums can also contribute to bone loss.
As mentioned, we can refit dentures by lining them with new acrylic material. Eventually, though, it may be necessary to consider a new set of dentures that match the altered contours of your jaw. But continuing bone loss might lead to the same fate for your new dentures as your previous pair.
There's a relatively new alternative, though, that could provide greater denture stability and help deter bone loss: implant overdentures. They're actually a union between a traditional denture and a dental implant, a tooth replacement approach introduced over thirty years ago.
With this option, two strategically-placed implants are surgically inserted into the jaw bone. We then manufacture a denture (or retrofit your current dentures, if possible) with fittings that connect to the implants. Once in the mouth, the dentures gain their main support from the implants rather than the gum ridge, which relieves pressure on the bone. And because the titanium implant has a natural affinity with bone, new bone will grow and attach itself to it, increasing its stability and stopping bone loss.
Although more expensive than traditional dentures, implant overdentures are more affordable than individual teeth replaced by implants and are very cost-effective over time. What's more, they can restore the comfort and confidence to eat, speak and smile that you once enjoyed when you had your own teeth.
If you would like more information on implant-supported dentures, please contact us or schedule an appointment for a consultation. You can also learn more about this topic by reading the Dear Doctor magazine article "Implant Overdentures."