Posts for tag: bridgework
By Edwin Yee
April 29, 2022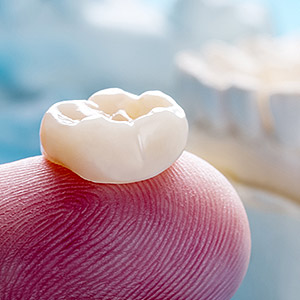 Porcelain crowns are most commonly used to protect and support teeth damaged by disease or trauma. Today's highly advanced crowns are more effective than ever—and more life-like and attractive.
For instance, dentists often install a crown for a tooth that's endured long-term decay. It's often necessary for a dentist to remove significant portions of affected dentin of a decayed tooth over time, which weakens its overall structure. By crowning the tooth, a dentist can both protect it from further decay and provide it structural support. For similar reasons, dentists routinely place crowns after root canal treatments.
To fulfill their role in preserving and strengthening teeth, crowns must be made of durable materials. For this reason, earlier generations of dentists often turned to crowns composed of precious metals like gold or silver, which could withstand daily chewing forces. But these metal crowns did have one downside: Other than shape, they little resembled real teeth.
Crowns later became more life-like around the middle of the 20th Century with the advent of a type of crown composed of a metal shell encased with a tooth-colored porcelain layer. Marrying functionality with aesthetics, these porcelain-fused-to-metal (PFM) crowns became quite popular and reigned supreme until the early 2000s.
At that time, advances in dental porcelain led to the emergence of the all-ceramic crown. The effort had started a full decade before when dental labs began adding a material called Lucite to porcelain to give it strength. With further improvements, these new porcelain materials, which no longer required metal for durability, soon displaced PFMs as the most commonly installed crown.
Today's dental patient now has more crown choices than patients in previous generations. Especially useful for visible teeth (those in the "Smile Zone"), an all-ceramic crown now enhances rather than detracts from a tooth's appearance. Metal and PFM crowns haven't gone away either—they're often used with teeth that encounter heavy biting forces like molars, and which are not as noticeable.
With more choices, patients no longer need sacrifice their appearance to protect their teeth. You can now preserve a troubled tooth—and still maintain an attractive smile.
If you would like more information on restorative dentistry, please contact us or schedule an appointment for a consultation. You can also learn more about this topic by reading the Dear Doctor magazine article "Crowns & Bridgework."
By Edwin Yee
October 31, 2021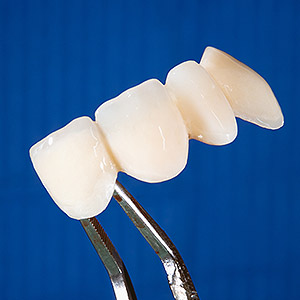 Our primary aim as dentists is to preserve teeth. There are times, however, when preserving a tooth is no longer worth the effort and we must recommend removing it. Fortunately, extracted teeth can be replaced with a functional and attractive restoration.
Today's top tooth-replacement option is the dental implant. Composed of a titanium metal post imbedded into the jawbone, a single dental implant can replace an individual tooth or a series of implants can support other restorations for multiple teeth. Besides being incredibly life-like, dental implants are highly durable and can last for decades.
But dental implants aren't an optimal choice for everyone. Their cost often matches their status as the premier tooth replacement method. And because they require a minimum amount of bone for proper implantation, they're not always feasible for patients with extensive bone loss.
But even if dental implants aren't right for you, and you want a fixed restoration rather than dentures, you still have options. What's more, they've been around for decades!
One is a bonded crown, which works particularly well for a tooth excessively damaged by decay, excessive wear or fractures. After removing all of the damaged portions and shaping the remaining tooth, we cement a life-like crown, custom created for that particular tooth, over the remaining structure.
Besides improving appearance, a crown also protects the tooth and restores its function. One thing to remember, though, is although the crown itself is impervious to disease, the remainder of the natural tooth isn't. It's important then to brush and floss around crowned teeth like any other tooth and see a dentist regularly for cleanings.
Dental bridges are a fixed solution for extracted teeth. It's composed of prosthetic teeth to replace those missing bonded together with supporting crowns on both ends. These crowned teeth are known as abutments, and, depending on how many teeth are being replaced, we may need to increase the number of abutments to support the bridge.
Although durable, crowns or bridges typically don't match the longevity of an implant. And, implants don't require the permanent alteration of support teeth as is necessary with a bridge. But when the choice of implants isn't on the table, these traditional restorations can be an effective dental solution.
If you would like more information on crown or bridge restorations, please contact us or schedule an appointment for a consultation. You can also learn more about this topic by reading the Dear Doctor magazine article "Crowns & Bridgework."