Posts for tag: nutrition
By Edwin Yee
October 18, 2019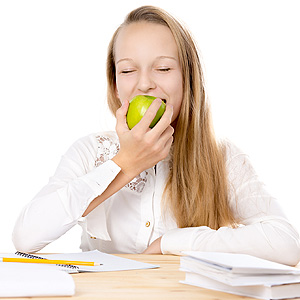 "The Freshman 15" is a popular way of referring to the phenomenon of new college students gaining weight during their freshman year (although the average is less than fifteen pounds). According to research, college students gain weight mainly due to an unhealthy diet and lack of exercise.
If you're experiencing this as a college student, you should also know poor diet and lifestyle choices harm your teeth and gums as well. If you don't want to encounter major dental problems, then you need to make some changes beginning with the same cause for your weight gain: what you eat and drink.
Like the rest of your body, your teeth and gums have the best chance for being healthy when you're eating a balanced, nutritional diet low in added sugar. And it's not just mealtime: constant snacking on sweets not only loads on the calories, it also feeds disease-causing oral bacteria. Sipping on acidic beverages like sodas, sports or energy drinks also increases the levels of acid that can erode tooth enamel.
Some lifestyle habits can also affect oral health. Using tobacco (smoked or smokeless) inhibits your mouth's natural healing properties and makes you more susceptible to dental disease. While it may be cool to get piercings in your lips, cheeks or tongue, the hardware can cause gum recession, chipped teeth and soft tissue cuts susceptible to infection. And unsafe sexual practices increase your risk for contracting the human papilloma virus (HPV16) that's been linked with oral cancer, among other serious health problems.
Last but not least, how you regularly care for your teeth and gums can make the biggest difference of all. You should brush and floss your teeth ideally twice a day to clean away plaque, a thin film of disease-causing bacteria and food particles. And twice-a-year dental cleanings and checkups will round out your prevention efforts against tooth decay or periodontal (gum) disease.
Making your own choices is a rite of passage into adulthood. Making good choices for your teeth and gums will help ensure they remain healthy for a long time to come.
If you would like more information on maintaining dental health during the college years, please contact us or schedule an appointment for a consultation. You can also learn more about this topic by reading the Dear Doctor magazine article "10 Health Tips for College Students."
By Edwin Yee
January 30, 2019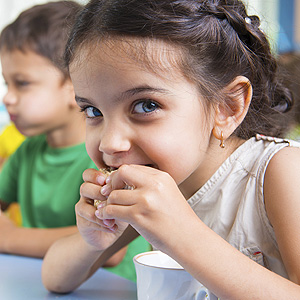 While you do all you can to provide your child healthy meals and snacks at home, they still face tempting choices for unhealthy fare when they're away. Unfortunately, their school campus could be one of those places with food choices that raise their risk for dental disease.
Thankfully, that situation is beginning to change. The U.S. Department of Agriculture (USDA) issued regulations a few years ago tightening minimum health standards for snacks available on school grounds. Called the Smart Snacks in Schools initiative, it promotes whole grains, fruits, vegetables and low-fat dairy products, while discouraging snacks with empty calories, fat, sugar and excessive salt. This is good news in particular for preventing tooth decay in children and teenagers.
Unfortunately, the initiative may not go far enough. There are a few "loopholes": it allows for chocolate milk with added sugar as long as it's fat-free; high schools can also sell beverages like sports and energy drinks, which are low in sugar but high in enamel-harming acid. So, although the general nutrition of snacks in schools may be improving, you should still remain alert to poor choices that may fall through the cracks.
For one thing, you can advocate for better nutrition policies in your child's school. The USDA initiative is a minimum standard — schools can exceed them and eliminate borderline snacks allowed under the federal regulations.
You can also provide your child snack alternatives to the school vending machine. A little creativity and fun can go a long way: a dash of cinnamon or parmesan cheese on popcorn instead of butter; finger sandwiches made of real cheese on whole-grain bread (with some whimsical shaping with a cookie-cutter); or bite-sized fruits and vegetables like grapes, baby carrots or nuts. The more healthy (and enjoyable) snacks you can send with them, the less chance they'll turn to a less nutritious choice in the vending machine.
A healthier approach to snacking depends on setting good examples, providing ample selections and accentuating the positive about healthy foods. Choosing nutritious foods, at home and away, is a key building block for healthy teeth and gums.
If you would like more information on nutrition and dental health, please contact us or schedule an appointment for a consultation. You can also learn more about this topic by reading the Dear Doctor magazine article "Snacking at School."
By Edwin Yee
November 29, 2017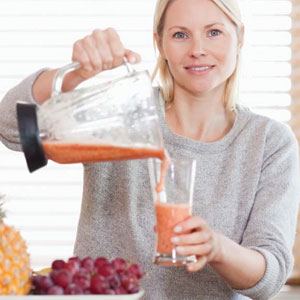 Eating is one of the pleasures — and necessities — of life, but people who suffer from temporomandibular joint disorders (TMD) may find eating no pleasure at all — and they may not be eating the right nutritional balance of foods.
TMD is a collection of conditions that affect the jaw joints, connecting muscles and other related facial structures. If you've been diagnosed with TMD, you're probably not only acquainted with severe pain, but also difficulty opening your jaw as widely as normal. This can make it difficult to chew certain foods.
There are a number of effective treatments for TMD, including thermal therapy (hot or cold packs), joint exercise, medication or surgery (as a last resort). But these treatments often take time to make a noticeable difference. In the meantime, you may still need to change what and how you eat to ensure you're getting the nutrients your body needs.
The overall strategy should be to soften and reduce the chewing size of your food. With fruits and vegetables, you'll want to peel and discard any hard or chewy skins, and then chop the fruit flesh into smaller pieces. Steam or cook vegetables like greens, broccoli or cauliflower until they're soft and then chop them into smaller portions. You might also consider pureeing your fruit (and some vegetables) to make smoothies with ice, milk or yogurt, or vegetable-based soups.
Treat meat, poultry or seafood in much the same way, especially biting sizes. Besides cooking meats to tenderness, include moisteners like broths, gravies or brazing liquids to further make them easier to chew.
Dairy foods are an important source of nutrition: eat milk-based products like yogurt or cheese as much as you can handle. If you have problems with these or also nut butters, then consider meal replacement beverages like instant breakfast or whey protein beverages.
And don't forget whole grains. Although some can be hard to chew, you can prepare them in hot cereal form (like oatmeal) to tenderize them. You can also prepare thin bread toast and cut into smaller pieces.
Hopefully, your treatment will bring your TMD symptoms under manageable control. Until then (and after, if need be) adjust your diet to eat the foods that keep you healthy.
If you would like more information on maintaining a healthy diet with TMD, please contact us or schedule an appointment for a consultation.