All professionals at Edwin Yee, DMD, PA maintain the highest levels of accreditation and pursue ongoing education to stay abreast of the latest trends in the dental field. Read on to learn more about our staff's experience and training.
Dental Hygienist/Office Manager
Amie, CRDH
Hello and welcome! It's important to me to help our team create an environment where our patients feel safe and cared for as we help them make important decisions about their health. I bring over 20 years of dental hygiene experience to our team and I am so grateful to work for two outstanding dentists who not only have excellent hands-on skills, but also have huge hearts and care greatly for our patients and our team. To our team it's not just a job, it's about taking care of our patients and providing them with the very best care we can. I'm originally from California, but after a stint in the US Air Force, I moved to the area in 1996 and have called it home since. In my free time I love spending time with friends and family, including my son, Ian and our dog, Edgar. I love to go camping, kayaking, beaching and I'm always finding new adventures.
Dental Assistants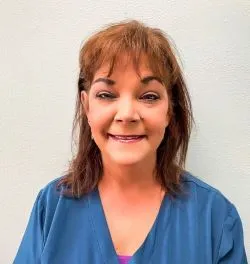 Nina, CDA
I bring over 30 years of experience to Dr Yee's team along with my love of Dentistry. What I like most about my job is giving compassionate care to patients and educating them about their dental care and treatment needed. I am originally from New Orleans, but have been in the Penacola area for many years. In my free time I enjoy cooking, fishing, beach time and spoiling my two dogs Maggie and Beignet when I'm not spending time with my two children and five grandchildren.
Insurance Coordinator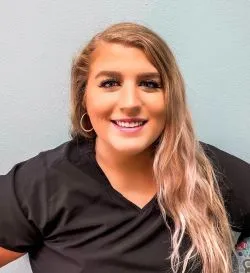 Kinsley
Many times I am the one answering the phone, I'm checking you in and out, and I can answer any questions you have in regards to treatment plans. I'm also the one who handles your insurance and will gladly assist you with any questions you may have. I enjoy working in this office for two wonderful dentists who truly put their patients first. Our office is filled with a great staff who are all helpful and kind-hearted. When I'm not at work I am spending time with family and friends, going to the beach or traveling with my dog Chewy. I have lived in Pensacola my whole life, this is home! I love meeting new people and learning new things. I cannot wait to meet you in this office that is filled with kindness and helpful hands.
---